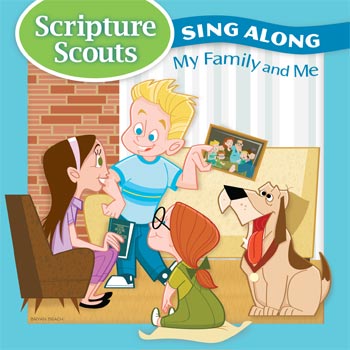 Included Songs

Listen!
The Family is the Reason

From the Very Beginning

Boy, Girl

Family

Family Reprise

That's What Families Do

Shout for Joy!

Everyone's Invited!

Hooray for Babies!

Mission to Be Me

On the Road of Happiness

Try it Out!

Making Promises

The Place of Promises

One Thing We Know for Sure

Never Out of Reach

A House

Light Up the House

It's Fun to Work Together

We Make Our Family

Because They Love You

Thank You for Being My Friend

Never Lonely

Self-Control

Happy to Be With You

Sailing

When I Meet My Savior

People Last Forever

A Light in the Heart
Scripture Scouts Sing Along: My Family and Me
Make bedtime and drivetime fun and spiritually-nourishing!
1 CD, Approx. running time 49 mins.


In 29 original songs, the Scripture Scouts Family Sing-Along CD covers the whole eternal plan of families while celebrating the everyday; the joys and challenges of working, learning and living together.

There has never before been a collection of children's songs that illuminates so many facets of family life. The songs are fun, humorous, joyous and deeply touching. Children and grownups will gain a whole new appreciation for their family - no matter what kind of family they have.

This collection offers real help. The songs encourage children to take an active part in strengthening their families.